So you may remember the last time
Karina
and I did a
photoshoot
... actually
don't
remember. Because I just read over that post that I wrote a year ago and cringed. So- don't click on that link!!
And if you do, well. I warned you.
Well, there is a reason I named this post the "Failed Photoshoot".
It's because I fail at being photographed.
The evidence:
Karina told me to "strike a pose" like Madonna, and of course striking a pose means doing what I'm doing...
not
.
Ten minutes after picture 1.
Still going strong...
Oh goodness. Stop, just stop.
You may be wondering about the whole getup- it all started with the glasses.
I won a pair of glasses in
Amanda's
blog giveaway a while ago, and once I received them in the mail I (of course!) had to show everyone, apparently through a photoshoot.
The dress happened because we decided to be "ironic". Hence the red pumps, the dress that I look like a child in, and the hair on the side. And the glasses.
I've decided since then that I can't do "ironic". Only size 00's can.
A change of outfits and- oh gosh, back to the laughing. DOES SHE EVER STOP??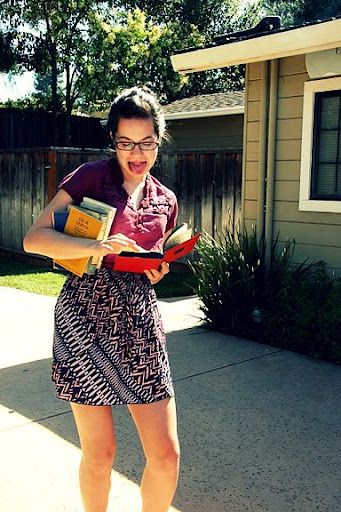 These are just getting more and more flattering.
Before you ask- no, I do not do that unconsciously. (That being sticking out my tongue and goofing around.)
I admit it. I am a ham.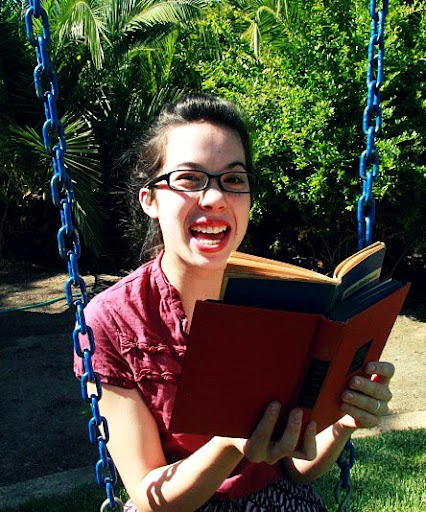 I do not even know how I made that face... I literally went into the bathroom in front of the mirror and tried.
It is impossible. And UGGLLAAAYY.
I think I may have actually been reading the book at this point.
The Odyssey
, if anyone was wondering.
I'm going to pretend this is supposed to be an uplifting picture with a motto or something attached.
"Reach for the stars..."
(Yes, I did just see Toy Story 3. Yes, Woody's string-pulley does say that.)
Nothing like swinging in someone else's slightly-too-big 5 inch heels.
And on
that
high note...