To give some background behind today's post, I'll just say that I took the SAT's (for the
very
last time) this Saturday. And that when you're stuck in a room from 7:50 am to 1:00 pm, you start to analyze every little thing about the room- from the handwriting on the board to the posters up in the class.
This quote was on a poster next to the teacher's desk, and it just stuck with me. Perhaps because it's poetic, perhaps because it's about love, perhaps because the genius Albert Einstein came up with it and it totally shows that he wasn't just a brainiac.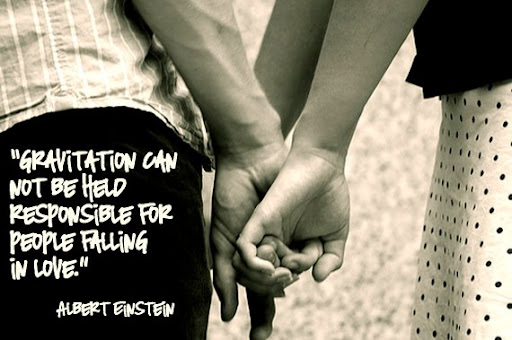 It's just so witty and sweet!
I love how the big science-y word of "gravitation" juxtaposes the "falling in love", and how no one would really ever expect Einstein to be quoted about
love
.
I also love that he doesn't try and explain or calculate love, like he knows that there's no scientific equation that will prove correctly each time someone will love another!
I guess I just like that he realizes the spontaneity of love.
Who would've thought?