I absolutely love Thanksgiving.

It's the time of the year when my cousins (who we don't see too often) come up and we all gather at my Grandpa's house for food and fun! We are kind of a stereotypical group:
We have the girls, posing for pictures, and the guys... one of whom is smiling (Go, Mathew!), one of whom is blurred because he moved his head at the last minute (Nick), and one of whom is blatantly not smiling for the camera (Patrick). Oh, boys.
The other fun part about Thanksgiving is the gingerbread houses,
remember
?
For the girls, it was a huge ordeal- perfect lines of icing, the right colors of candy for each window, door, and shingle!
For the little ones, it was more about ingesting candy. And LOTS of it.
(I can say without hesitation that Lilly ate more than one tube of icing- and the green around her face and hands proves it!)
The finished products:
Mostly
all cheerful, except for Patrick who had some sort of massacre on his house (the second closest to the camera), I believe he named it "The Silence of the Gingerbread Men".
Creative one, he is!
And the obligatory posing smiling with the completed houses: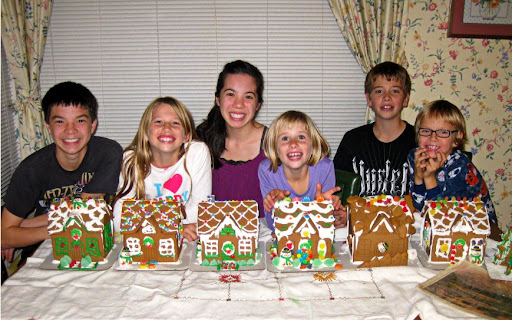 What traditions do you have for the holiday season?