Some of you may already know (as I ecstatically texted around when it happened), but two Fridays ago, I got to be an extra (sorry, "background artist") on Modern Family.

You see, they started filming at UCLA at noon, right when I was walking back from class to the dorms, and I happened to pass the sign for "Extras Check-in". Being the curious person I am, I followed the arrows towards a covered tent, filled out a few forms (after figuring out what was happening) and I was in!
We filmed 3 scenes for about 6 hours (thankfully I had finished all my classes for the day)- and we even got bussed to a frat house for Haley's "party"!
We started out just chilling in the grass, waiting for
Ty Burrell
,
Sarah Hyland
, and the crew to show up for the scene.
The cheerleaders (and the football players) were the only extras who got costumed- thankfully, I passed by the wardrobe artist without having to change a thing of my "college outfit".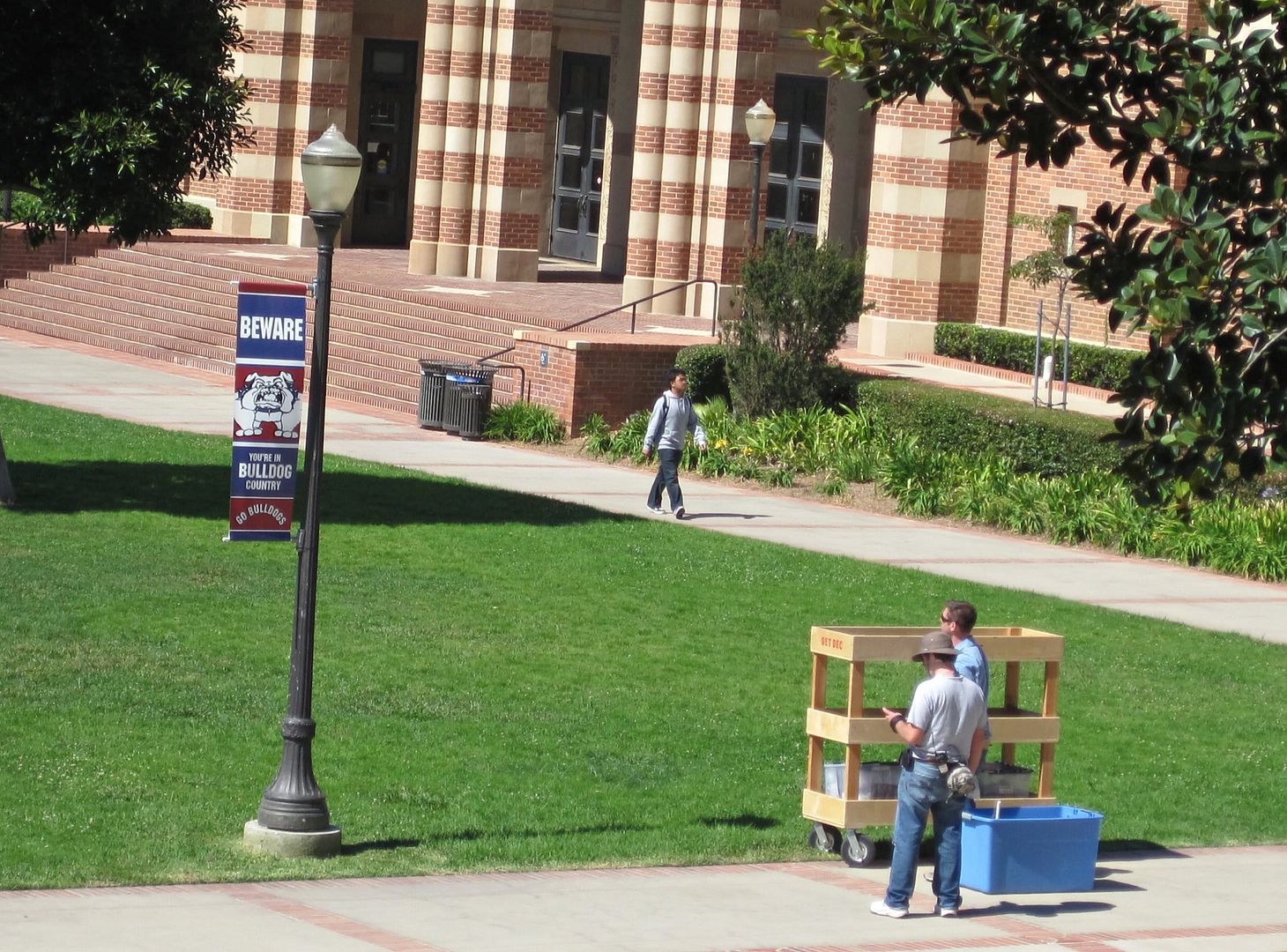 As we were waiting, UCLA was transformed into Bulldog territory before our eyes...
And then Ty Burrell (decked out in Bullfrog-sorry-dog gear) showed up on set!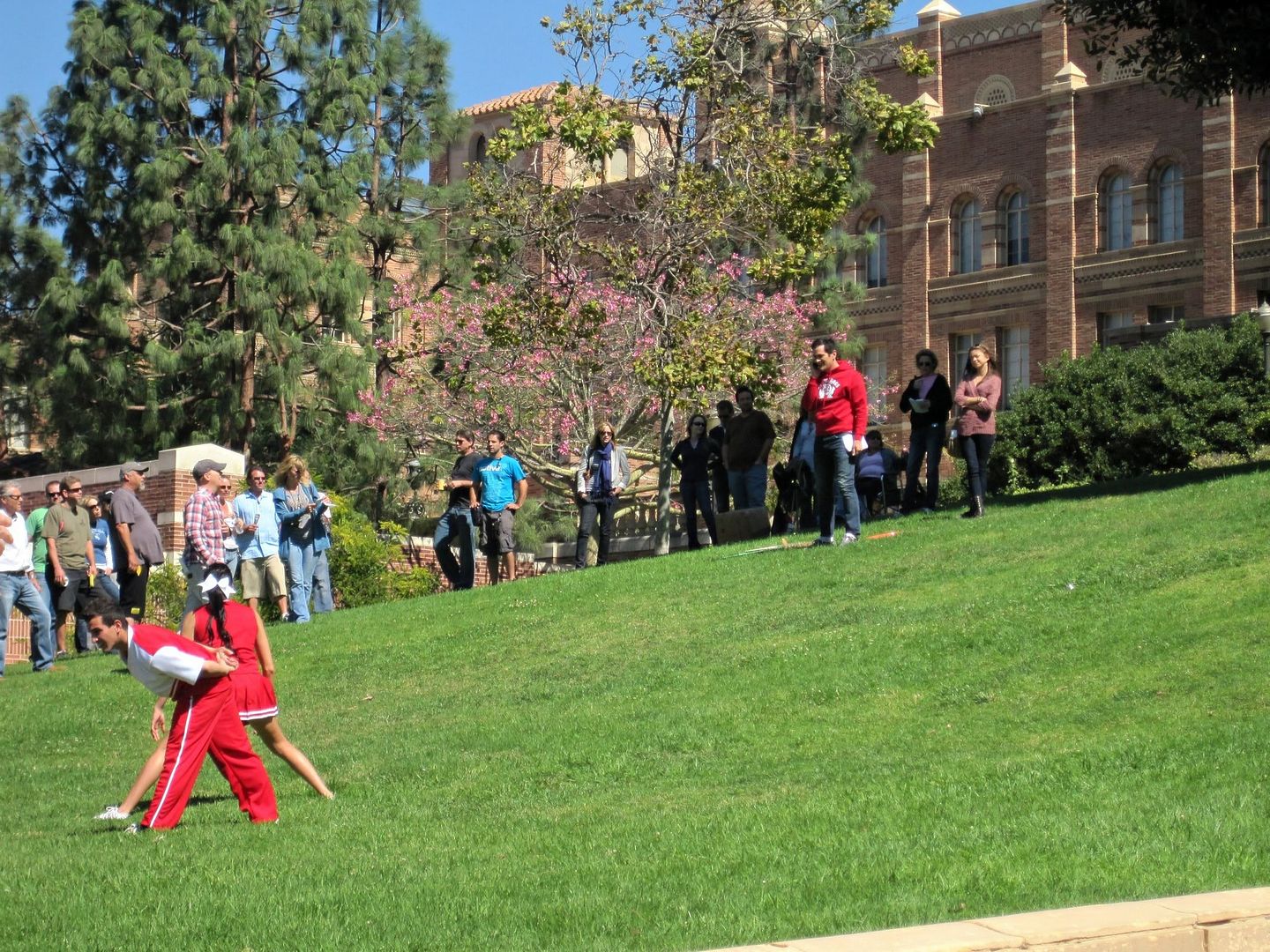 The first scene we filmed was Phil running through the cheerleaders.
I was in a group of students sitting in a circle behind the cheer team, studying and chatting.
(Although we weren't actually allowed to make noises because the mics picked up
everything
.)
And... that's what you can see of me in that scene.
I was wearing a scarf on my head that day; I assumed before I watched the scene that it would be pretty easy to see where I was. Well, the only reason I can pick out myself is because I remember where I was in relation to the scene.
The second scene we filmed (although it was the opening shot of the episode) was in front of the Glorya Kaufman Center, aka, the Bulldog's library.
I was a student late to class, walking quickly from the library to wherever I needed to be.
And oh, a quick shot of me and my backpack right as the camera zoomed in (and I walked out).
The final scene we shot was at the frat house we were bussed out to, "Pi Chi", as the show called it.
This was probably the most time consuming scene because we had to have an entire party in silence to allow for the dialogue to be heard. All the music was added in post-production.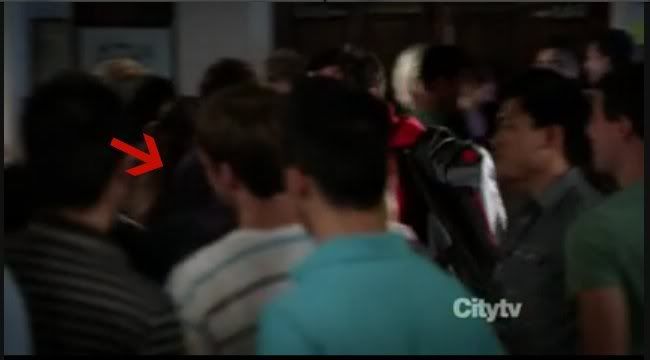 And alas, the only part of me visible is my back.
But at least I was right next to Phil?
I'm not gonna lie, I was expecting the episode to be a little different, but it was seriously one of the funnest (and most informative) experiences of my life.
Ty Burrell was such an inspiration- he improvised so many of those funny lines we love, and in between each take, he would take the time to talk with all the extras.
When else could I have had the opportunity to chat about dorky dancing with
such
a hilarious actor?
The other reason that I enjoyed this so much is because the show means quite a bit to me now. It was something I watched with my family every week, and now in college, we still discuss via Skype. I called my mom right after I got in (and once before for her help in filling out the form), and we spent our Skype date that night dissecting all the reactions of the actors and everything I did.
I miss my family a bunch, but this was something exciting I could tell them about my time in college.
Make that "
LA Moment
" number 3.